Coronavirus (COVID-19) December 2020
We Are Open
We are delighted to announce that from Monday, 11th May 2020, My Dental Health will be moving to Level 1 Restrictions. This means we will be performing all our usual procedures with added precautions.
In line with New South Wales Health advice and regulations, we ask that all patients continue to observe social distancing as well as practice proper hand hygiene.
Thank you for your continued support and understanding. We hope you and your family stay safe and healthy, and we look forward to seeing your smiles soon :)
---
If you have been confirmed to have COVID-19
OR You have travelled internationally within the past 14 days
OR You have had any contact with someone who is a confirmed COVID-19 case
OR You have ANY of these symptoms: Fever, Cough, Sore Throat, Diarrhoea, Shortness of breath
Do not come directly to our practice.
Please call us before making a booking or attending an appointment as we may recommend you delay any non-urgent dental treatment.
---
If you experience severe symptoms, call 000 and advise the operator that you are in self-quarantine because of COVID-19 risk.
For more information call the Coronavirus Information line on 1800 020 080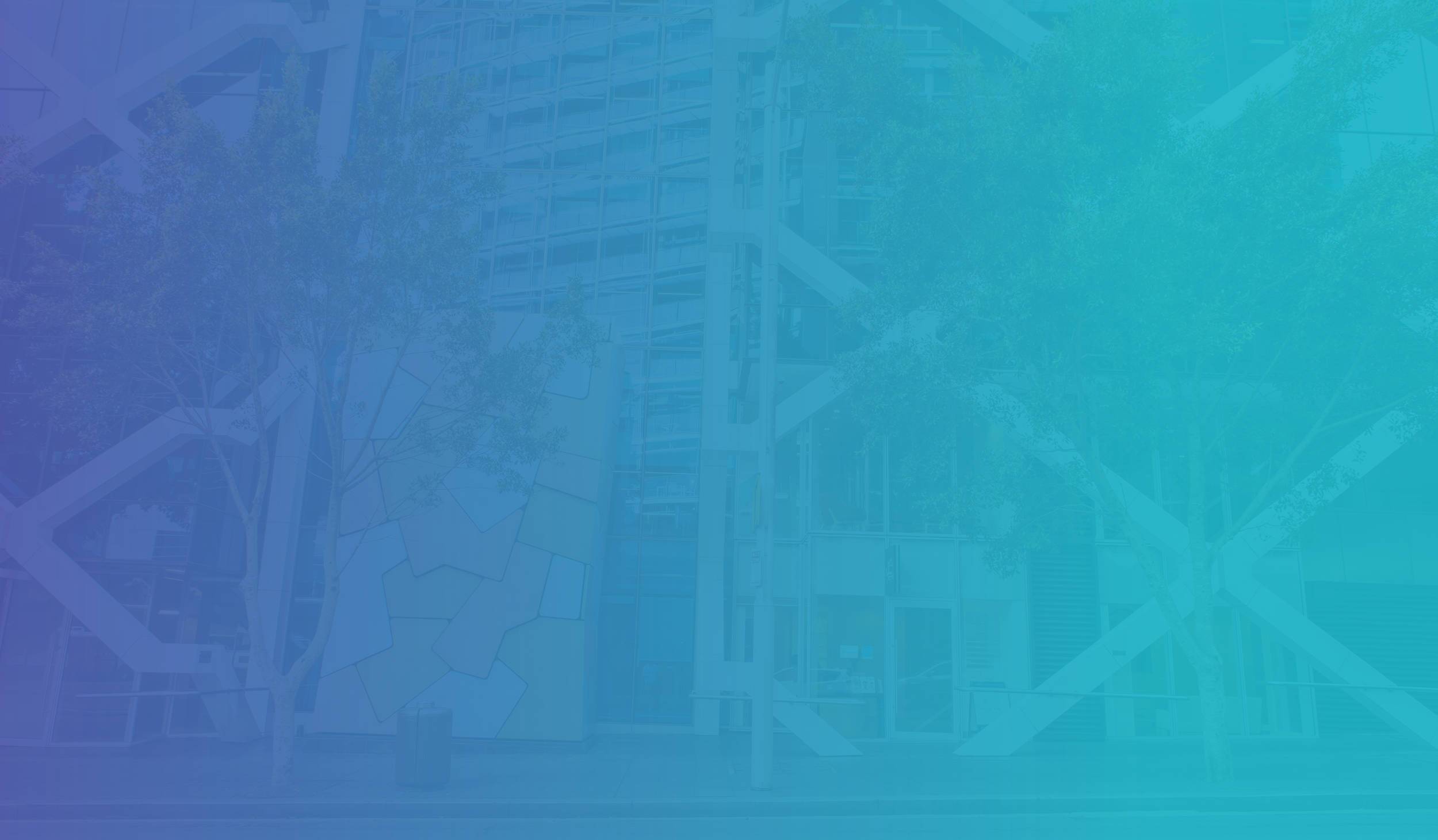 The City of Sydney's most awarded dental group
Trusted by over 30,000 patients
No gap services available for new & existing patients
New patient special: checkup, clean, x-rays fund only!
Same day emergency appointments available
As featured in the Sydney Morning Herald and the Sunday Telegraph
Proudly servicing the community for over 10 years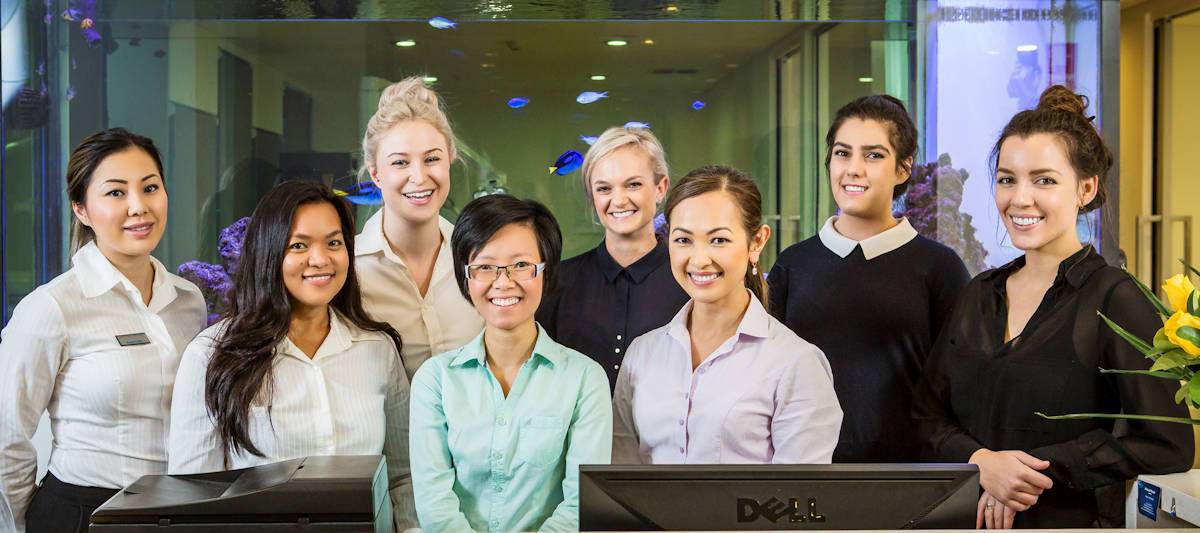 Dr Dimitri Sigalas featured in the Sydney Morning Herald talking about Invisalign.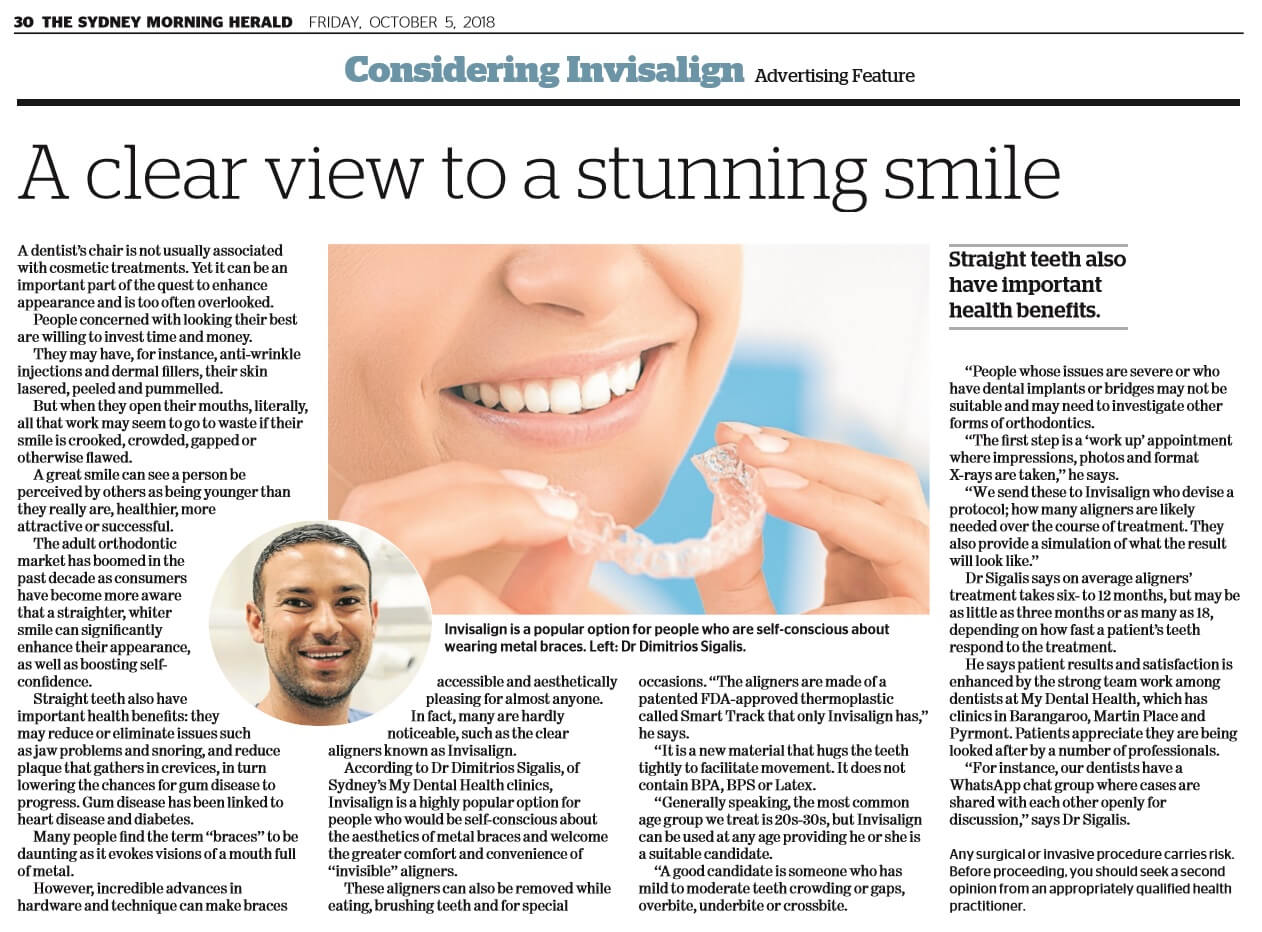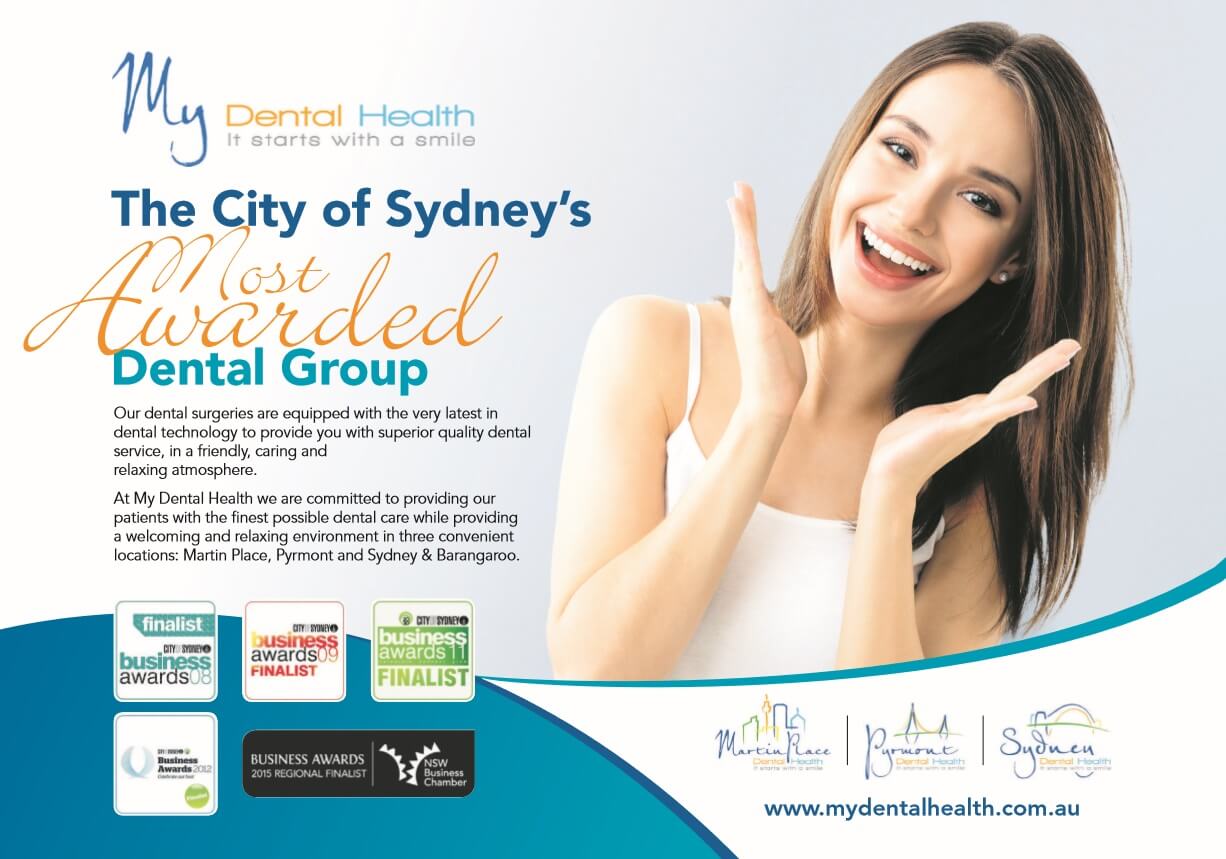 Complimentary Invisalign Consultation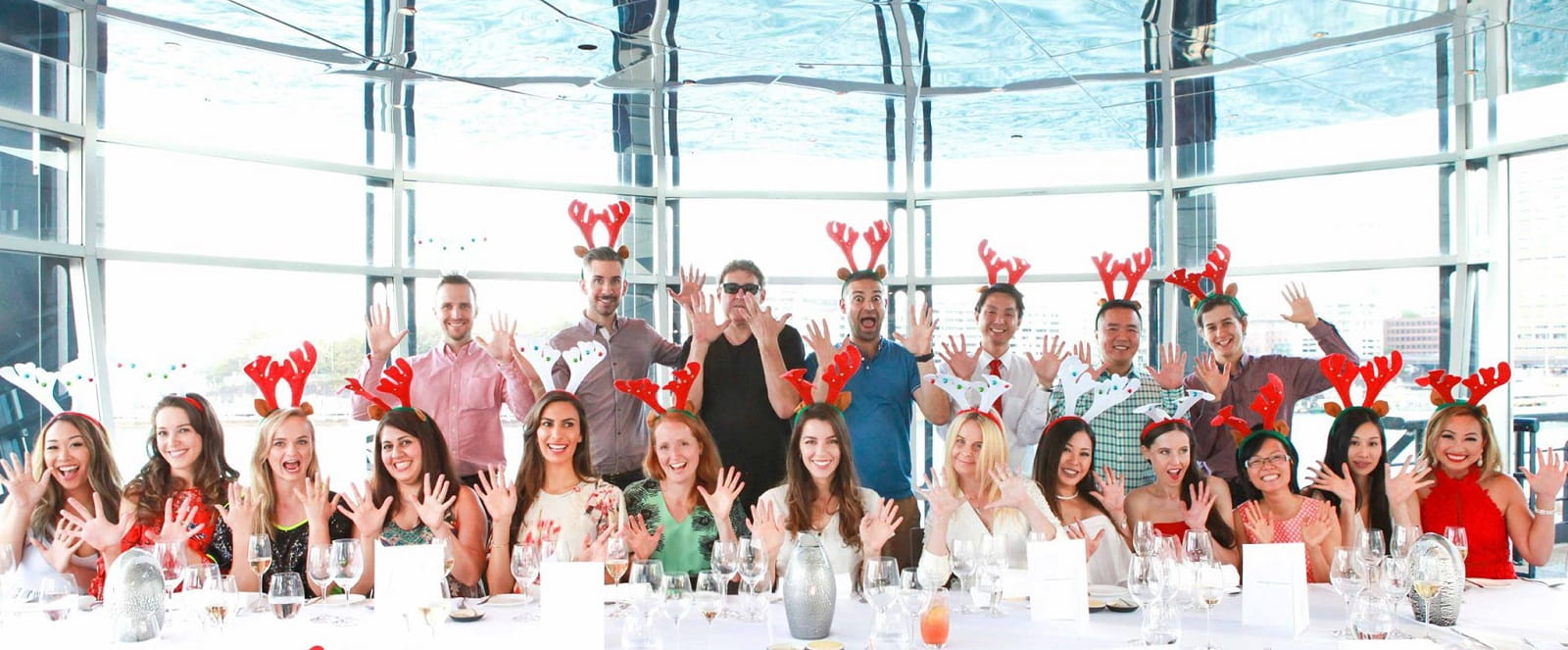 The Dental Health team celebrating their 10th anniversary and Christmas at Quay restaurant in 2017
Inspired by Finding Nemo
Inspired by Finding Nemo! Dr Patrick Dang designed his dental practices inspired by his favourite film which features a fish tank with everyone's favourite Nemo characters.
Meet the My Dental Health team
Award-winning dental practice
At My Dental Health we are committed to providing our patients with the finest possible dental care while providing a welcoming and relaxing environment in three convenient locations: Martin Place, Pyrmont and Sydney & Barangaroo.
Dentist in Sydney CBD, Barangaroo, Pyrmont and Martin Place
We are an award-winning dental practice located conveniently at Pyrmont, Barangaroo / King St Wharf and Martin Place, committed to providing you with the very best in preventative, restorative, and cosmetic dentistry combined with the highest level of customer service for you and your family.
Our dental surgeries are equipped with the very latest in dental technology to provide you with superior quality dental service, in a friendly, caring and relaxing atmosphere.
The services that we offer include:
We invite you to experience our services at Pyrmont, Sydney and Martin Place Dental Health – Dentist Sydney CBD.
Our Quality Dental Services
New Patient Special
Pyrmont, Sydney & Martin Place Dental Health are offering all new patients on their first visit a gap-free (i.e. health fund rebate only) check-up and clean.
Find out more